NAWA Modular is a modular milling system with standarized interface.
Standardized head blanks enable us to produce your individual tool in a short period of time.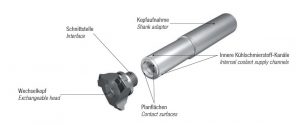 ECO means economical but also ecological.
Saving Tungsten Carbide in the heads, saves you money in your pocket and is also good for the environment.
The NAWA Modular shanks are available in a efficient steel version and a hight end version made from heavy metal with carbide inlays for highest quality requirements.